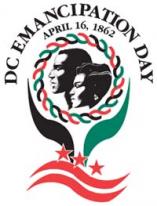 All events are Free, some may require advance RSVP
What is Emancipation Day? The DC Compensated Emancipation Act of 1862 ended slavery in Washington, DC, freed 3,100 individuals, reimbursed those who had legally owned them and offered the newly freed women and men money to emigrate. It is this legislation, and the courage and struggle of those who fought to make it a reality, that we commemorate every April 16, DC Emancipation Day. Read more about the
History of Emancipation Day
and see the
Emancipation Day Photo Gallery
. Remaining free events:
Thursday, April 24th
Twelve Years a Slave: Solomon Northrup's Washington
Lunchtime Talk at The Library of Congress
12:00pm - 1:00pm
Free
The Daniel A.P. Muray African American Culture Association of the Library of Congress presents author, scholar, lecturer, and historian of the African diaspora, C.R. Gibbs, to talk about the Solomon Northrup story - his drugging and kidnapping in the District, sale into slavery in the deep south, and eventual return to the District to seek justice. Those who have read the book "Twelve Years A Slave" or saw the Oscar winning movie with the same title, will learn even more about slavery in Northrup's Washington (1840's and '50's), as well as little known facts about his return to the District and quest for justice. Gibbs will also discuss the impact of Northup's tragedy on the nation and the struggle for emancipation, justice and equality.
Library of Congress
James Madison Bldg, Law Library Media Center
2nd Floor, Room LM-240
Metro: Capitol South
Sunday, April 27th
Salem Baptist Church Emancipation Day Celebration
2:00pm
This program will include songs of liberation, poetry, recitals, readings and other performances in celebration of emancipation in the District of Columbia. Come celebrate with some of the best gospel groups, poets, actors, etc. in the metropolitan area.
Salem Baptist Church
917 N Street NW
Metro: Mt Vernon Sq